IMA Urgent Care Shrewsbury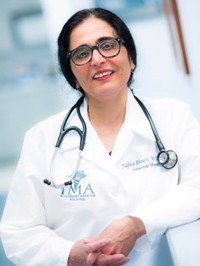 NAFISA Y. BHOORI, MD
Dr. Bhoori is a board certified physician in Internal Medicine and fellow of the American College of Physicians (ACP). She received her M.B.B.S. from the Sind Medical College, University of Karachi, Pakistan. She worked in Pakistan as an attending physician and general practitioner. In 1988, she received the Gold Medal Award for Excellence in Medical Services from the Memon Welfare Clinic in Karachi, Pakistan.
After receiving her M.D., Dr. Bhoori completed her residency in Internal Medicine from Mountainside Hospital in Montclair, New Jersey where she received the Intern of the Year Award. Since 1997, she has been working at IMA Medical Care at Shrewsbury.  In 2010, the American College of Physicians awarded Dr. Bhoori the Laureate Award for her commitment to excellence in medical care, education, research and service to community, region and the College. In addition, she is a member of the Medical Society of New Jersey (MSNJ). Dr. Bhoori also serves as an elected counselor to the Association of Physicians of Pakistani Descent of North America (APPNA); furthermore, she volunteers at APPNA's Free Clinic in Plainfield, NJ.
Dr. Bhoori enjoys working at I.M.A. Medical Care and treating patients. She lives in Middletown with her husband and is the proud mother of a son and daughter. In her free time, Dr. Bhoori loves reading, baking, and taking photographs.