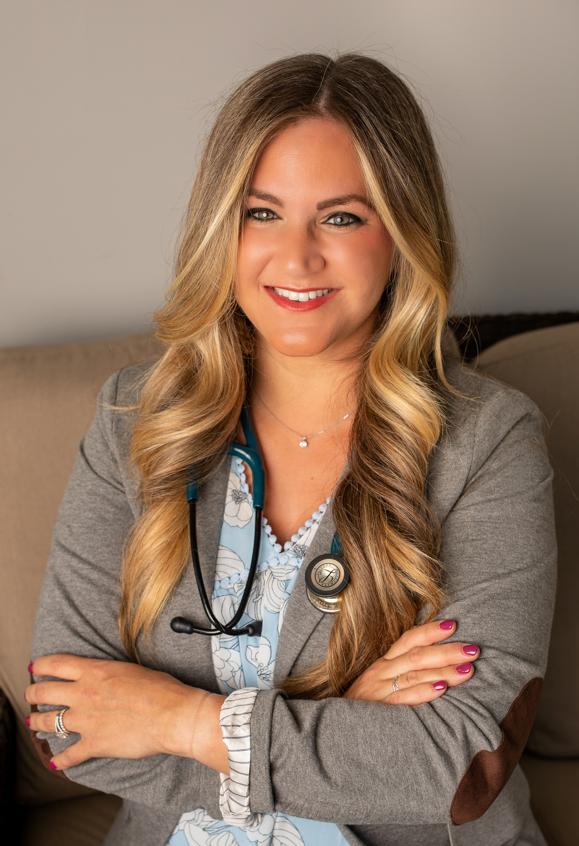 EMILY EYERKUSS, DO, FAAP
Dr. Emily Eyerkuss is a Board-Certified Pediatric Physician with a true passion for caring for children and their families. A Monmouth County native, she is thrilled to be living out her own childhood dream of treating kids right in the community that she calls home.
Dr. Eyerkuss completed her undergraduate degrees in Biology and Psychology at Syracuse University and received her Medical Degree from the Rowan University School of Osteopathic Medicine in New Jersey. She went on to complete her residency training in Pediatrics at Jersey Shore University Medical Center, including an additional year of training and professional growth as Chief Resident.
She brings years of experience in Pediatric medicine in Monmouth and Ocean County and has special interests in early childhood development, mental health, and utilizing a family-based approach to achieve optimal wellness for pediatric patients.
In her spare time, Dr. Eyerkuss enjoys time at the beach and traveling with her husband and young children.
What you should know
Click on the question to see the answer.
What does a Pediatrician do?
A Pediatrician is a physician who has completed training in college, medical school and an accredited residency program dedicated to learning how to diagnose and treat a range of childhood illnesses and support the health and well-being of infants, children, adolescents and young adults. Pediatricians maintain a state-specific medical license as well as board certification by the American Board of Pediatrics (ABP) which represents a dedication to the highest level of professionalism in patient care and provides a standard of excellence by which the public can select pediatricians and pediatric subspecialists.  Many of these professionals also belong to a nationwide not-for-profit coalition of dedicated pediatricians known as the American Academy of Pediatrics (AAP), which provides continuing education, annual scientific meetings, publications, seminars and statements from committees to help its members provide excellent care for America's youth. The AAP also provides a section for parents and caregivers known as HealthyChildren.org which contains valuable information and resources for common topics from newborn care, to sleep and nutrition, and even puberty and school readiness. This useful resource can be found here: https://healthychildren.org/English/Pages/default.aspx.
What does an office visit look like?
Regular checkups or 'wellness visits' are an important part of tracking your child's health and development. Your pediatrician, along with their skilled team of healthcare professionals, will begin by measuring your child's height, weight, and other metrics to track their growth. A head-to-toe examination will follow, with special attention to any areas of concern. You may be asked to fill out a questionnaire regarding your child's developmental milestones and any challenges in their daily routine. Relevant immunizations will be discussed and administered as appropriate to your child's age and health status. You will have an opportunity to address your questions and concerns, and to share your child's successes with your pediatrician so that you may work together to determine the best ways to help your child grow and thrive.
An 'acute care' or sick-visit will be focused primarily on the area of concern whether that is an acute illness, injury, or specific area of your child's health that you would like to address with your doctor. This visit will include basic measurements and a physical examination, and may also involve some specific testing ordered by your doctor such as viral testing, throat cultures, urine sample evaluations, labwork, x-rays, or referrals to subspecialists.
When does my child need to be seen?
Routine wellness care begins as soon as your baby is born! The hospital or birthing facility where your baby makes their grand entrance will have an on-call doctor available for your baby's first checkup within their first few hours of life. After they are discharged home from the hospital, your new baby will have their first office visit within their first 2-3 days at home. Your baby will likely be seen again within the following weeks to monitor weight gain, feeding, sleep patterns, etc., and will have their first monthly checkup at 1 month of age. After this visit, your baby will be seen in the office at 2 months, 3 months, 4 months, 6 months, 8-10 months, and 12 months of age. Frequent office visits in the first year of life provide ample opportunities for parent education, close monitoring of growth and development, and a team-based approach to any questions or concerns that arise as you navigate the first year with your new baby. Routine childhood immunizations are an integral part of your baby's first year and beyond. After the 12 month visit, your baby will be seen again for wellness checks at 15 months, 18 months, 2 years, and 2.5 years, and then will begin coming to the office annually for well visits.
Acute care or 'sick visits' can be scheduled at any time, and we will do our best to accommodate you for a same-day visit to address any concerns as they arise. In addition, we have trained physicians and other healthcare providers available 24hrs/day, 7days/week to answer your acute questions after office hours or during weekends. We aim to be an important resource for your and your children around the clock!
When should I schedule an appointment?
Routine well visits can be scheduled in advance, or at the completion of one office visit. We will do our best to accommodate you and your child's busy schedule so that you have ample time in our office.
A prenatal office visit is encouraged for new parents to tour the office, meet the staff, and chat with your baby's Pediatrician ahead of their arrival. You are encouraged to ask any questions you may have regarding delivery, newborn care, breastfeeding, circumcision, infant safety, and maternal wellness at this visit and leading up to your infant's birth.
Same-day sick appointments can be scheduled at any time, and we will do our very best to have your child seen as soon as possible.
What vaccines does my child need? And what if I'm hesitant about vaccination?
The implementation of routine childhood immunizations has led to major improvements in child health and safety and drastically reduced mortality from many vaccine-preventable diseases in childhood. Pediatricians firmly believe in the importance and efficacy of preventative care for children, which includes immunizations. The American Academy of Pediatrics (AAP) advocates for appropriate funding for public immunization programs to help eliminate cost as a barrier for families who wish to keep their children safe with routine vaccination. The Child and Adolescent Immunization Schedule recommended by the American Academy of Pediatrics (AAP) can be found here: https://publications.aap.org/redbook/pages/Immunization-Schedules and is published at your pediatrician's office for your reference. Your pediatrician will discuss each vaccine with you in detail and discuss the importance of each component as well as any potential side-effects and any contraindications or precautions to vaccination. You will have ample opportunity to discuss your concerns with your doctor so that you can feel comfortable and confident that you are doing your best to keep your child safe.