RED BANK FAMILY MEDICINE – Gilbert Street
IMA Primary Care
Founded in 1998, Red Bank Family Medicine - Gilbert Street  is the Primary Care practice of Dr. Brendan J. Mulholland.  Dr. Mulholland is Board Certified in family practice and provides care to patients ages 2 and up.
The office is also staffed with Board Certified Nurse Practitioners and Board Certified Physician Assistants to further meet your scheduling needs.  With all of the providers on our staff, we can offer same day appointments to the majority of patients.
Click to Call
Directions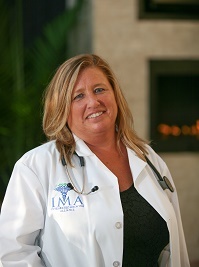 DANA ESSNER, DNP
Dana Essner is a Nurse Practitioner who is double board-certified in both Pediatric & Family Medicine. Dana received her B.A. in English from Florida Atlantic University, & a Master of Science in Nursing from Seton Hall University in 1999. She then completed a Post Master's Degree Program at George Washington University in Washington, DC. Most recently, Dana completed her Doctorate of Nursing from the University of Alabama in Huntsville. She has extensive experience in emergency, urgent and primary care.
Dana has been a nurse practitioner for almost 20 years. Dana is a member of the College of Lifestyle Medicine, the American Association of Nurse Practitioners, and the National Association of Pediatric Nurse Practitioners.
Dana has been with IMA since 2015. Prior to joining IMA, Dana worked as a Nurse Practitioner in the emergency room of Riverview Medical Center in Red Bank.