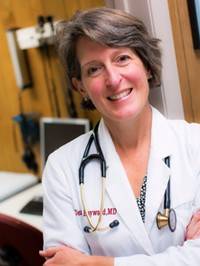 Denise Hayward, MD
Dr. Denise Hayward was born and raised in New Jersey. She graduated from Union High School and Drew University and later attended Columbia University.
After graduating from the University of Medicine and Dentistry of New Jersey-Robert Wood Johnson Medical School in 1996, Dr. Hayward and her husband headed west to Portland, Oregon. She completed her Internal Medicine internship and residency at Legacy Portland Health System and subsequently joined their faculty practice.
Dr. Hayward successfully completed her recertification from the American Board of Internal Medicine in 2009.
Dr. Hayward joined Fair Haven Internal Medicine in 2007.
She enjoys hiking, sea kayaking, cross-country skiing and gardening.